Fish Types
Salmon Species
The geographical location of Port Hardy is perfect for intercepting all species of migrating Vancouver Island Salmon that are traveling down the inside and outside waters surrounding Vancouver Island.
What this means is that we get the first crack at all Vancouver Island Salmon traveling south to places like Campbell River, Nanaimo, Vancouver, Nootka, Port Alberni, Washington, Oregon and California.
They all have to get past us first! With highly productive waters fuelled by cold up welling currents, hungry salmon like to stop and feed on the abundant schools of herring, pilchards and needlefish. Fishermen often witness huge balls of baitfish being terrorized by roaming schools of hungry salmon.
Big Chinook Salmon
Also referred to as the spring salmon, king salmon or tyee for fish that are 30 lbs or more. Chinook salmon are quite possibly the most sought after game fish in the north Pacific, and the largest recorded specimen was 126lbs, wow!   Our main season for trophy Chinook is June through September, but we also catch "winter" or "feeder" Chinook from November through February.
When fishing for Chinook salmon, we generally troll, mooch or cast fly's with sink tip line. Chinook fishing can be very addictive, as the powerful king salmon hits like a boxer, runs like a freight train, and can snap your line with a powerful head shake. In the summer, we usually see Chinook between 18 – 40lbs, with the occasional boat bringing in a 50+ pounder.
The winter Chinook average between 8-20 lbs, with the occasional specimen reaching the 30lb mark.
Coho Salmon
Also known as the silver salmon or blueback, the hard fighting Coho is well known for its acrobatics, and reel burning runs. Coho salmon can be very aggressive, and sight fishing is not uncommon.
Port Hardy is in the heart of Coho country, and we generally start catching Coho in mid to late June, and often catch them right into October. Many of our clients enjoy casting or buck tailing flies to hungry silvers, as the action can be incredible. There is nothing quite like feeling a large Coho strike, while witnessing the fish take the fly at the same time!
Sockeye Salmon
Also referred to as the red salmon with the green head, the hard fighting sockeye is known for providing fine table fare. Vancouver Island Sockeye salmon generally begin to show up in mid July, and can often be caught well into September. When the sockeye are "running", we generally troll hoochies at depths between 20 and 250 feet! Vancouver Island Sockeye Salmon often travel in huge schools, and the fishing can be fast and furious when the bite is on! The sockeye can also be regularly caught on the fly, but we can't tell you which pattern or colour, it's a trade secret!
Pink Salmon
The pink salmon is often referred to as the humpback salmon, or just plain humpie! These are the smallest of the pacific Vancouver Island salmon, and the largest ever recorded weighed in at 15 lbs.  Pink salmon are regularly caught while trolling bait, hoochies or spoons. We also catch pink salmon while casting and buck tailing fly's. This is really fun as  you often see the fish take the fly! The pink salmon provides an excellent fight, and are also great table fare.
Chum Salmon
The hard fighting Vancouver Island Chum salmon is also known as the fall salmon, Keta salmon, or dog salmon. Vancouver Island Chum salmon start to show up in July, and can be caught until late October. Typically the best fishing for chum salmon occurs in September and October, and can be downright hot when the bite is on. Vancouver island Chum Salmon migrate through the Port Hardy Area prior to arriving in Campbell River and Qualicum River. Please enquire about our fall specials for Halibut and Chum Salmon fishing.
Bottom Fish
Halibut
The pacific Halibut is hands down the most sought after bottom fish trophy in the North Pacific, and Port Hardy is at the Canadian epicentre.  We start fishing Halibut in April, and continue right through October. We know where the big ones live, and our clients often limit out on Halibut.
The largest Halibut ever recorded was 495lbs, but rumours of a fish weighing over 600lbs are common on the dock. Each season fishermen catch halibut weighing over 200lbs in the waters around Port Hardy. Pace yourself and hang on to the rod, you are in for a fight!
Halibut are strong swimmers and like to take powerful, rod shaking runs. We frequently see fish in the 20 to 60 pound range. Known as "chickens" these are the best eating halibut, and also put up a strong fight. Halibut can be caught while trolling or mooching, but are usually caught while drift fishing jigs or bait. It is not uncommon to catch other bottom fish such as Lingcod, snapper or rockfish while targeting halibut.
Red Snapper
Also known as the Yelloweye Rockfish, the Red Snapper is a tasty addition to a day of bottom fishing.
Usually found in close proximity to bottom structure, the red snapper can be caught on jigs, or with bait such as herring, octopus and squid.
We usually catch Red snapper in the 4-10 pound range, but several clients have caught specimens over 20 lbs
Rockfish
There are many different species of Rockfish found in the waters of Northern Vancouver Island.
Copper, Quillback, Tiger, Yelloweye, Yellowtail, Brown, Black and Vermillion are the names of the species that we catch.
Rockfish are often caught while trolling Salmon, or jigging for Halibut. We also target rockfish with the fly, and often are able to sight the fish in the water before it takes the hook.
Lingcod
The Lingcod is perhaps one of the most aggressive predators found in the waters around Port Hardy.  We often witness lingcod following and latching onto another fish being reeled in. It is like a 2 for 1 deal if you can get them both in the boat! Lingcod in the 10 – 20 pound range are caught regularly, and we do see lingcod up to 50 lbs. The largest lingcod ever recorded weighed in at 100lbs.
Lingcod are regularly caught while bottom fishing for halibut or red snapper, but they can also be caught while trolling or mooching. The lingcod is popular with anglers as they grow big, fight hard, and taste great. The flesh of the lingcod can sometimes have a blue tint, this is normal and disappears when cooked.
Albacore Tuna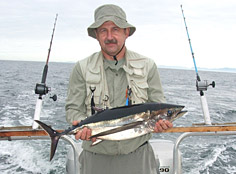 Albacore Tuna can be caught in the waters off Quatsino Sound in the month of August until early September. Tuna fishing is for the serious fisherman, and is sure to be a trip you won't soon forget! We troll for Albacore Tuna offshore, and the action can be superb when the bite is on.
This fish is built for speed, and takes long hard runs after hammering the lure off the surface. As Albacore Tuna are usually found in schools, double header's are common, and make the guide earn his pay. Not only is the action fast and furious, but they make fine table fare.
Sashimi or barbecue are the favorites, just remember not to overcook!  Tuna trips are on a special request basis, and are not recommended for those persons that are prone to seasickness. If you are interested in going out for Albacore Tune, please feel free to talk to Mike and we can set up a trip.